Our Mushrooms Grow Indoors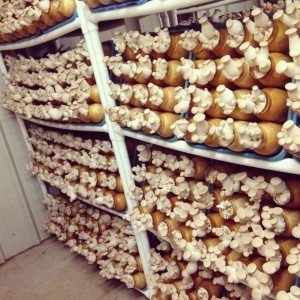 Our mushroom facility is a state-of-the-art, environmentally controlled, 16,000 sq. ft. production facility located in Laupahoehoe on the Big Island of Hawaii. Our facility is equipped with automated specialty mushroom cultivation equipment, our own sterile tissue culture laboratory and six indoor growing rooms; making it possible for us to produce a variety of species. We pride ourselves in producing mushrooms of exceptional quality.
Our Laboratory
Our incubation rooms are designed to provide an exceptional world class product. With the extensive variety of spawn and strains available to us; we are able to supply a wide variety of mushrooms and mushroom products that have not previously been available locally on the Islands. Having our own laboratory means that we can produce our own mushroom spawn, which allows us to have complete control over the quality of our products. Aided by the automation equipment and climate control measures we have installed we will be able to consistently deliver our product to our clients year round.