Hilo Grown Ag Tour takes in nursery, farm and market
POSTED: 01:30 a.m. HST, Aug 18, 2013 Honolulu Star Advertiser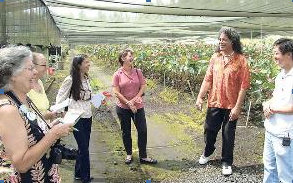 COURTESY DANIEL MORII
Green Point Nurseries is the largest anthurium farm in Hawaii, and it also grows orchids, tropical flowers and foliage (such as ti leaves) for shipment all over the world. Neo Thong Teng, right, operations manager for Green Point Nurseries, and Kamaki Rathburn, guide for Hilo Grown Ag Tour, speak with tour participants.
As a child, Troy Keolanui spent many summers with his maternal grandparents in rural Boring, Ore., 20 miles from Portland. One of his favorite pastimes was picking blueberries, blackberries, strawberries and raspberries at neighboring farms.
"Of course, I ate more berries than I picked," Keolanui said. "Grandma's berry pies were the best! You could smell them baking a mile away, and there was no better treat than a warm slice of her pie topped with vanilla ice cream."
His grandparents had a small cattle ranch and grew hazelnuts, corn, cabbage and kohlrabi. "My mom also always had a garden," he said. "Even when I was a kid, I liked buying seeds and watching them grow. It's not surprising that I became a full-time farmer."
HILO GROWN AG TOUR
» Meeting place: Hilo Hawaiian Hotel, 71 Banyan Drive
» Tour times: 8:30 a.m. to 4 p.m. Wednesdays to Fridays
» Cost: $90; $55 for ages 3-11 and infants and toddlers occupying a seat in the van. Reservations required.
» Info: 930-0086 or benson@hiagtourism.org
» Website: www.hawaiiagtours.com
» Notes: Participants must be able to walk on gravel, grassy areas and slightly uneven terrain. Wear insect repellent, sunscreen, hat, comfortable clothing and covered walking shoes.
Keolanui is co-owner and manager of OK Farms, one of the stops on the Hilo Grown Ag Tour, launched in June by the Hawaii Agri-Tourism Association, a nonprofit organization founded in 2007 to provide outreach education about the industry, train producers and create opportunities in agriculture tourism.
"Agri-tours are experiential," said Benson Medina, the association's director of special proj­ects. "They pique all the senses. Most kama­aina don't live in agricultural areas, so they learn a lot on our Hilo Grown tour, too. We hope to eventually offer agri-tours statewide. Since Hawaii island is the hub of agriculture in the state, it makes sense that our first tour would be here."
According to Medina, three of Hilo Grown's stops — OK Farms, Green Point Nursery and KTA Super Stores — were chosen because they are multigenerational family businesses that champion energy-efficient and environmentally sustainable practices.
The fourth stop, the Imi­loa Astronomy Center, provides cultural context. There, participants learn how early Hawaiians maintained sustainable food sources through conservation, cooperative growing and the systematic harvesting of crops.
The500-acre OK Farms specializes in tree crops, including coffee, citrus and macadamia nuts. It also features a "spice road" of clove, nutmeg, allspice, cinnamon and curry leaf.
Tour participants touch, smell and sample spices as well as heart of palm, raw macadamia nuts and fruits in season (orange, tangerine and longan are among crops ripening now).
OK's scenic location beside the Wai­luku River has a temperate climate, rich volcanic soil and abundant rainfall (about 130 inches annually), making irrigation unnecessary. Guests are given time to enjoy views of RainbowFalls and cloud-wreathed Mauna Kea.
Four generations of the Tano­uye family have turned Green Point Nurseries into one of Hawaii's largest anthurium producers. Founded in 1957, the 30-acre farm grows 21 varieties of anthuriums and an assortment of foliage, including lauae fern and monstera, hala and ti leaves.
Through partnerships with other Hawaii island growers, Green Point also sells tropicals such as orchids, heliconias, proteas, gingers and bird of paradise. In the processing building, Hilo Grown groups watch workers sort, wash and pack orders for shipment as far as Japan, India, Singapore and Dubai. Deliveries can be made anywhere in the world within two days.
Guests learn the steps being taken to eradicate the mealybug and other pests, and how to pot and grow anthuriums at home in lava rock cinders instead of soil because the flower's roots need to breathe.
At the KTA Super Store on Puainako Street, those on the tour stroll the aisles, learning about the grocery chain's Mountain Apple brand, which features more than 200 items grown, processed or manufactured in Hawaii. These include everything from milk, eggs and Portuguese sausage to poi, dried fish and boiled peanuts.
"We usually start our visit in the bakery," Medina said. "Many of the best-sellers there are family recipes shared by the store's employees. If something is not baked at the store, chances are it's at least made by a local company."
Stops are also made at the meat department (nearly half of KTA's hamburger, steaks and other cuts are grass-fed local beef), the produce department (pictures of farmers are posted near the fruits and vegetables they've supplied) and the fish department (more than 20 types of fresh poke are offered daily). Most of the poke recipes are also employee favorites.
Among the greenery flourishing on five acres at Imi­loa Astronomy Center are taro, banana, breadfruit, coconut and some 20 other "canoe plants" that early settlers brought with them on their long voyages across the Pacific. Tour participants see many of these plants, which the ancient mariners selected for their seaworthiness and for use as food, shelter, clothing, medicine and more.
They also learn why the Hawaiians cultivated and harvested crops according to certain phases of the moon. These phases also dictated when the farmers should let the land lie fallow. Following this system helped villages conserve resources and ensured they would have ample food year-round.
"Our guests are surprised when they find out many local farmers still grow crops according to the Hawaiian moon calendar," Medina said. "Walking and talking with the people who actually work the land is a wonderful educational opportunity that can't be duplicated by reading books, watching videos or listening to a guide on a bus."
Most "ag tourists" have been to Hawaii many times and want to expand their experiences, he said. "They want to taste our food, see how and where it's grown, and find out where to buy it. They understand the best way to experience a destination is from the perspective of the people who have deep roots there."
Cheryl Chee Tsutsumi is a Honolulu-based freelance writer whose travel features for the Star-Advertiser have won several Society of American Travel Writers awards.