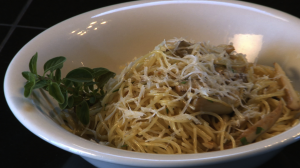 Serving Size  : 4
What You'll Need:
4        6 oz  cooked angel hair pasta
2       Cups  Abalone Mushrooms – shredded
1        Tablespoon minced garlic
2        oz  white wine
2        oz unsalted butter
1        Teaspoon oregano                                                                                                                                                                                                                                                  1         Teaspoon rosemary
Heat a pan over low heat and add the mushrooms.
Toast lightly and add the butter and a little olive oil.
When the butter starts to brown add the garlic.
Add the pasta and toss with the mushrooms.
Deglaze with the white wine and season with salt and pepper.
Garnish with Parmesan cheese and fresh herbs.
Per Serving (excluding unknown items): 114 Calories; 12g Fat (96.0% calories from fat); trace Protein; 1g Carbohydrate; trace Dietary Fiber; 31mg Cholesterol; 3mg Sodium.  Exchanges: 0 Vegetable; 2 1/2 Fat.
NOTES : FEEL FREE TO ADD DICED HAM OR ANY OTHER VEGGIES THAT YOU MIGHT WANT.