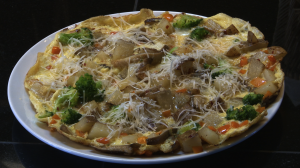 A tasty baked egg skillet is perfect for a hearty breakfast. Plus, it's packed with healthy vegetables!
Serves: 4
Cooking Time: 25 min
What you'll need:
2 medium-sized baking potatoes
1 cup chopped fresh Alii mushrooms (gray oyster or abalone mushrooms are good too)
1/2 cup chopped broccoli florets
2 scallions, chopped
1/3 cup chopped red bell pepper
1 garlic clove, crushed
1/8 teaspoon crushed red pepper
1/2 teaspoon salt
3 whole eggs
3 egg whites
1/4 cup low-fat milk
What To Do:
Preheat oven to 400 degrees F. Bake the potatoes for about 1 hour, or in the microwave oven on high power for 7 to 10 minutes, until tender. Cut into 1/2-inch chunks.
Coat a large nonstick skillet with cooking spray and heat over medium-high heat. Add the potatoes, mushrooms, broccoli, scallions, bell pepper, garlic, crushed red pepper, and salt. Cook for 2 to 5 minutes, stirring occasionally, or until the vegetables are tender and the potatoes are lightly browned.
Meanwhile, in a medium-sized bowl, whisk together the eggs, egg whites, and milk.
Reduce the skillet heat to medium-low and add the egg mixture. As the mixture begins to set, push the ends slightly toward the center, allowing the liquid to run to the edges of the skillet. Reduce the heat to low and cover the skillet. Allow to cook for 8 to 9 minutes, or until the eggs are set, then slide the frittata out of the pan and onto a serving plate. Cut into 4 wedges and serve immediately.