Fungi prove fun for mushroom-farming couple
POSTED: 01:30 a.m. HST, Jul 14, 2013
LAST UPDATED: 08:49 p.m. HST, Jul 14, 2013
COURTESY ISAAC FRAZER
Samples of mushrooms are set out on tables at the Hamakua Mushroom factory for guests to see, touch and smell. A guest gets a close look at Alii mushrooms during a tour.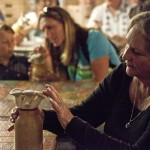 When Bob Stanga explains how he went from being the owner and pilot of a helicopter company to growing mushrooms, he jokes that he wanted to become a more "grounded" person.
Stanga lived on Oahu for 20 years when he owned Makani Kai Helicopters. During that time he befriended many restaurateurs.
"I thought it'd be fun and interesting to grow a specialty product that restaurants could use," Stanga said. "Mushrooms were one of the things that came to mind, and I started reading books about them."
HAMAKUA MUSHROOMS TOUR AND TASTING
» Place: Hamakua Mushrooms, 36-221 Manowaiopae Homestead Road, Laupahoehoe, Hawaii island
» Days: Tuesdays, Wednesdays and Fridays
» Time: 9:30 and 11 a.m. and 1:30 p.m. Check in 15 minutes prior.
» Cost: $20 per person; $17.50 for kamaaina, military personnel and seniors 65 and older; $10 for children ages 3 to 11
» Phone: 962-0305
» Email: reservations@hamakuamushrooms.com
» Website: www.hamakuamushrooms.com
» Notes: Ask about group bookings. Tours must be reserved at least 24 hours in advance with a credit card payment.
Because the factory provides a clean, germ-free environment for the growth of mushrooms, guests should arrive with clean clothes, shoes, hands and hair. They should also be free of illness to minimize the impact to the environment. Hamakua Mushrooms reserves the right to deny entry to those who present a risk.
The 2,000-square-foot Chef House is available for private functions. Call for details.
ALII OYSTER MUSHROOMS WITH SPINACH AND MACADAMIA NUTS
4 ounces Alii Oyster mushrooms
2 tablespoons olive oil
12 ounces washed baby spinach leaves
2 tablespoons balsamic vinegar
Salt and pepper to taste
3 tablespoons toasted macadamia nuts, chopped
Cut mushrooms into half-inch chunks. Saute in oil over medium-high heat for 3 minutes. Spread spinach over the mushrooms, top with balsamic vinegar and cover pan tightly. Turn off the heat. Leave lid on for 2 minutes, then uncover and sprinkle mushrooms and spinach with salt and pepper. If spinach is not sufficiently cooked, return to heat uncovered, stirring gently for a few minutes longer. Garnish with macadamia nuts. Serves 4.
When he sold Makani Kai and got married, he put the idea on the back burner. He and his wife, Janice, an interior designer, moved to San Luis Obispo, Calif., where they started an interior decor and window design business.
Coincidentally, one of their customers owned a white button and portabello mushroom farm in Gilroy, a two-hour drive away. He invited the Stangas to visit.
"After seeing his operation, I thought, We can do that," Stanga recalled. "At that point, around 1998, Janice and I began our research in earnest."
They took classes, talked to consultants and read everything they could about growing mushrooms. But everyone they met discouraged them because mushrooms need daily attention, and mistakes can be costly in terms of time and money. Any type of bacteria that disturbs the growing environment could destroy the whole crop and set back production for two months.
"One consultant told us, 'If I had $50,000 to play on a single hand of blackjack or a chance to start a mushroom farm, I'd go with the blackjack hand,'" Stanga said.
But the couple persevered. In 2001 they broke ground on a 16,000-square-foot factory on 35 acres in rural Laupahoehoe on Hawaii island.
Production started two years later. From an initial harvest of 50 pounds per week, Hama­kua Mushrooms now produces 5,000 pounds per week as the only commercial grower of specialty mushrooms in the state.
"Specialty" refers to mushrooms that grow in light from a substrate of wheat bran, corncobs and eucalypus sawdust. Most other varieties of mushrooms grow in the dark from cow, horse or chicken manure.
On a 70-minute tour led by Stanga, visitors learn how Hama­kua Mushrooms got its start, watch a 12-minute video that describes its four varieties (Abalone, Pioppini, Gray Oyster and Alii Oyster) and view the mushrooms through glass windows in three stages: incubation, growth and being packed for distribution.
"Our mushrooms are cultivated in plastic bottles, a method that was developed in Japan," Stanga said. "It's better than growing mushrooms in bags or trays because it's easier to fill, move and empty bottles. This system also allows the mushrooms to grow in bouquets, which results in a longer shelf life and gives the chefs more presentation options."
A sterile tissue culture laboratory provides complete quality control. No herbicides, hormones, chemicals or synthetic fertilizers are used in the growing process.
Although tour-goers aren't allowed in the climate-controlled incubation and cultivation rooms, samples of mushrooms are set out on tables for them to see, touch and smell. Stanga welcomes questions and sometimes his answers are surprising. For example, guests learn that heat from cooking releases mushrooms' nutrients. If mushrooms are eaten raw, they don't have as much nutritional value.
USING a large Evo grill, Stanga sautés Alii and Pioppini mushrooms in olive oil, fresh garlic, red salt and ground pepper. Everyone enjoys samples of this simple but ono dish.
"Other than putting mushrooms on a burger or pizza, most people don't know how to cook with them," Stanga said. "They also don't realize how healthy mushrooms are. They're low in fat, calories and carbohydrates and are loaded with iron, niacin, riboflavin and potassium. There are so many wonderful ways to prepare mushrooms. Janice and I haven't tried one recipe that we haven't liked."
When acclaimed island chef Alan Wong was invited to do President Barack Obama's Congressional Luau in June 2009, 216 pounds of Hama­kua mushrooms made the 5,000-mile trip to Washington, D.C., to accompany the Ginger-Crusted Snapper with Miso Sesame Vinaigrette course.
The firm, meaty Alii Oyster is Hama­kua Mushrooms' star. "It has a 2½-inch cap and a stem that's 1 inch in diameter and up to 8 inches long," Stanga said. "Unlike other mushrooms, the Alii's stem tastes as good as its cap, so nothing is wasted. In fact, you can slice the stem into medallions and prepare them as you would scallops."
Visitors conclude the tour in the Hama­kua Mushrooms Boutique. Available for sale are fresh mushrooms and gift items, including Mushroom Green Tea, Lilikoi Mushroom Butter, Garlic Mushroom Lavosh, Mushroom Butter Cookies and Sweet Potato Chips with Mushroom Salt — all made with Hama­kua mushrooms.
According to Stanga, the tour demystifies mushrooms, applauds their versatility and points out their health benefits. "Guests come on the tour knowing little or nothing about mushrooms," he said. "By the end of it, they've become fans and can't wait to try mushroom recipes when they get home."
Cheryl Chee Tsutsumi is a Honolulu-based freelance writer whose travel features for the Star-Advertiser have won several Society of American Travel Writers awards.