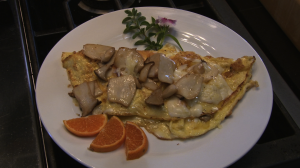 Eggs are one of the fastest foods we can make, and when we team them with sautéed mushrooms, they're also one of the most delicious. Our Overstuffed Mushroom Omelet isn't just for breakfast — it can serve as a great lunch or light supper, too.
Serves: 2
Cooking Time: 7 min
What you'll need:
2 tablespoons butter, divided
4 ounces sliced Alii mushrooms
1/4 teaspoon salt
1/4 teaspoon pepper
4 eggs, beaten
1/4 cup shredded Swiss cheese
What to Do:
In a medium skillet, melt butter and/or olive oil over medium heat.  Wait till pan is very hot. Add the sliced Alii mushrooms, sauté 3 to 7 minutes, then add fresh chopped garlic, ground pepper and kosher sea salt (chopped onions, optional), until mushrooms are golden; remove from skillet and set aside.
Melt remaining butter in skillet. Add eggs and stir gently 1 minute; stop stirring and allow egg to set up for 1 to 2 minutes. Top eggs with half the mushroom mixture, sprinkle with Swiss cheese, and fold in half. Top with remaining mushroom mixture and serve immediately.